To help boost the preventive measures in ports against the Coronavirus Disease 2019 (COVID19) as one of the main entry and exit points in the Provinces of Misamis Oriental and Camiguin, Provincial and City LGUs pledged to provide thermal scanners in CDO Port and the Ports of Benoni and Balbagon in Camiguin.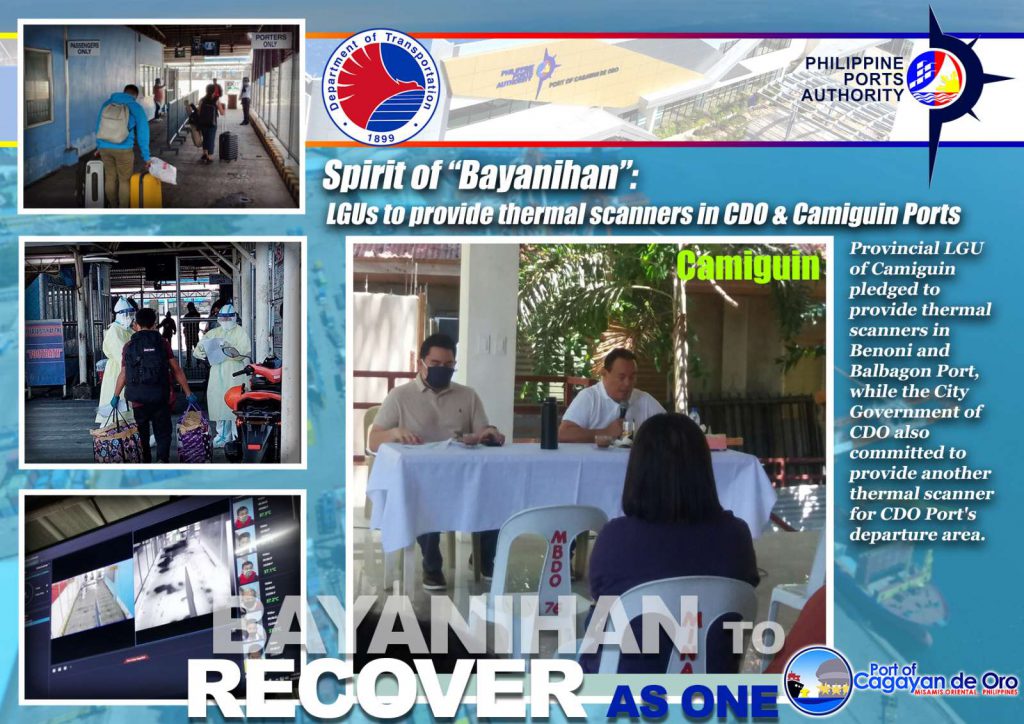 During a live broadcast on 18 June 2020, Camiguin Governor Jurdin Jesus M. Romualdo announced that the Provincial LGU of Camiguin together with the Municipal LGU of Mambajao will be providing a thermal scanner in the Port of Balbagon in Mambajao, Camiguin. This Port caters to vessels plying from Camiguin to Jagna, Bohol and vice-versa.
Although regular passenger operations have not yet resumed in the said port, the installation of a thermal scanner is in preparation for the expected influx of passengers under the "new normal." It is aimed to prevent crowding in ports due to the foreseen delay caused by individual temperature screening. With the no-contact thermal scanner, Port personnel or health personnel deployed in the Port will no longer screen the passengers individually using a thermo gun, which would thereby minimize their exposure to possible virus carriers.
During a separate meeting, the Provincial Government informed that they will be also providing a thermal scanner in Benoni Port.
Relatedly, Cagayan de Oro City Mayor Oscar S. Moreno informed during the Northern Mindanao Task Force for COVID-19 meeting on 10 June 2020 that the City LGU is yet to procure another thermal scanner for the Port of Cagayan de Oro, particularly for its departure area.  One (1) city-owned thermal scanner was already installed in the Port's arrival area on 04 June 2020 which was a big help for the thermal scanning of inbound passengers as the Port is receiving multiple batches of Returning Overseas Filipinos (ROFs) and Locally Stranded Individuals (LSIs) day by day.
The Port Management Office of Misamis Oriental/Cagayan de Oro is grateful for these commitments by concerned LGUs and looks forward to the fruition of these plans towards improved measures for the safety and security of the sea-going public.