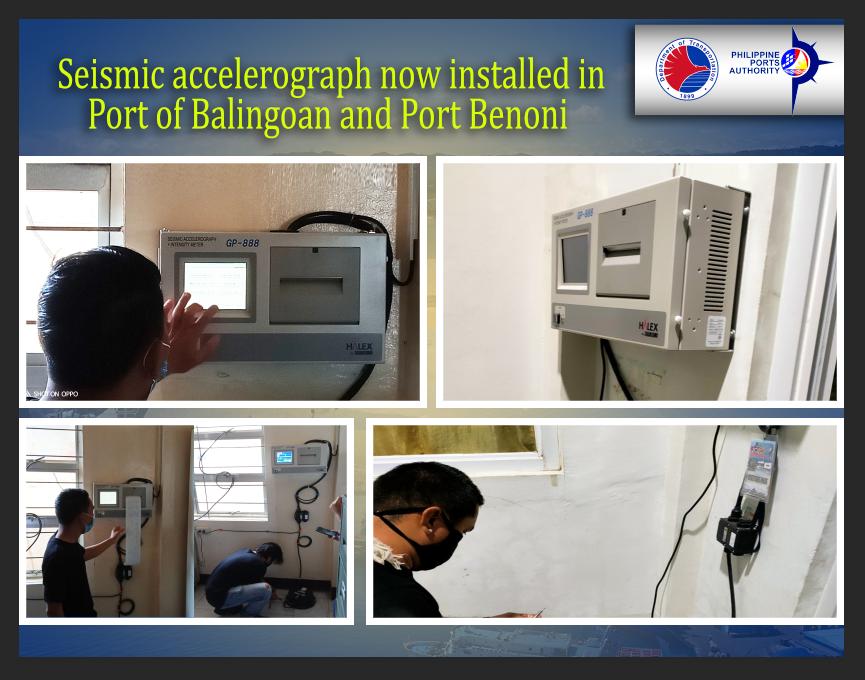 Seismic accelerograph devices provided by the PPA Head Office were recently installed in the Port of Benoni in Mahinog, Camiguin and Port of Balingoan, Misamis Oriental on 23 February 2020.
The seismic accelerograph also known as accelerometer, measures and records the acceleration of particles on the surface of the earth as a function of time, or the ground motions produced by earthquakes. Observations from the records of this device are used to assess the seismic hazard of the area or the probability that an earthquake will occur in a given area within a given window of time. Through this, risk can be likewise assessed which may be addressed through improved building design.
In 2015, the Department of Public Works and Highways established the Guidelines and Implementing Rules on Earthquake Recording Instrumentation for Buildings that include the installation and use of earthquake instrumentation schemes in buildings "to record building response during major seismic events for subsequent analysis and provide immediate alarm annunciation to ensure that the building occupants can be moved to safety as per the Building Emergency Evacuation Plan (BEEP) of the National Disaster Risk Reduction Management Council (NDRRMC), which is the basis for the guidelines of earthquake drills in the Philippine."*
* GUIDELINES AND IMPLEMENTING RULES ON EARTHQUAKE RECORDING INSTRUMENTATION FOR BUILDINGS, approved 12 January 2015.