The Port Management Office of Misamis Oriental/Cagayan de Oro once again took part in annual environmental-related celebrations despite of the current Coronavirus Disease-2019 (COVID-19), with its latest participation in the observance of the Philippine Environment Month 2020 through a website seminar (webinar) on 30 June 2020.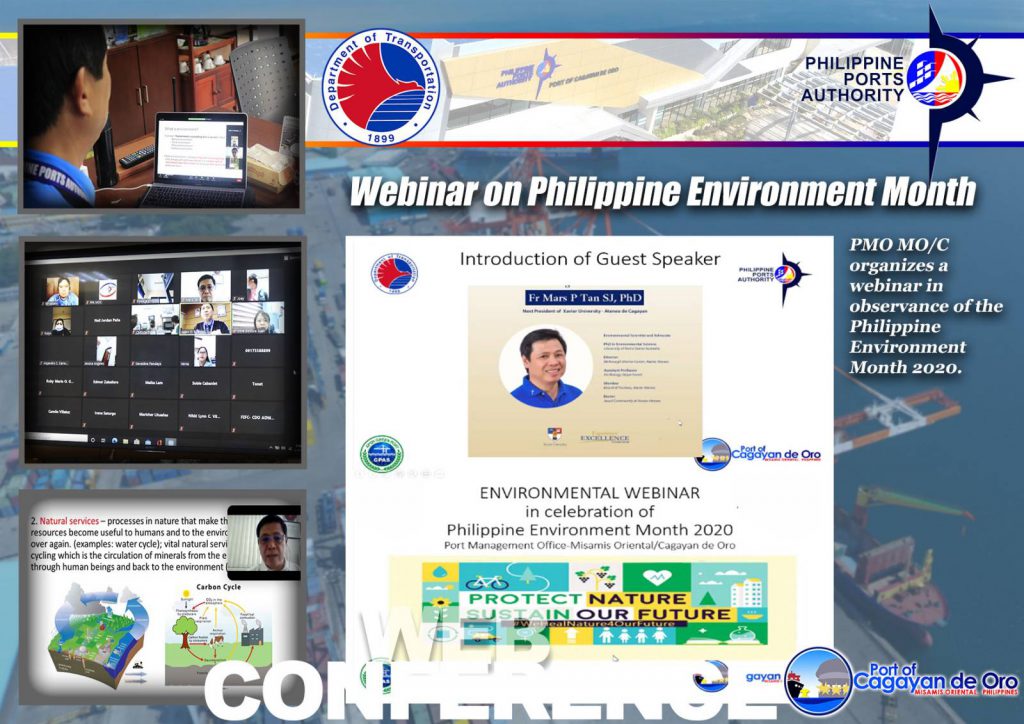 The PMO MO/C invited Fr. Mars Tan, SJ, PhD, as the resource speaker for the said environmental webinar. Fr. Tan who is the incoming President of XU—Ateneo de Cagayan, and a PhD on Environmental Science at the University of Notre Dame, Australia, used to preside masses in the PMO every other Fridays. He has been also engaging with PMO MO/C for various environmental projects as the Director of McKeough Marine Center of Xavier University—Ateneo de Cagayan (XUMMC).
With this year's celebration theme, "Protect Nature. Sustain our Future," the resource speaker discussed about the components of the environment, the threats and problems that affect them, and the key concepts in the protection and sustainability of the natural environment.
Fr. Tan urged everyone to not only settle for awareness on protecting the nature, that is, to understand the problem and how to address it, but to get involved and put the generated solutions into actions.
Thirty-five (35) participants joined the webinar including the PMO employees, personnel of the cargo handling operator of CDO Port, among others.
The PMO has participated in the Earth Month celebration last April through vegetable planting and tree growing activity; and the Month of the Ocean earlier in June via webinar.