To pay tribute and salutation to the seafarers for their continuing service amid the pandemic, ensuring the maintenance of their vessels to successfully deliver commodities and essential goods across the country and the globe, PPA Port Management Office of Misamis Oriental/Cagayan de Oro (PMO MO/C) joined the Maritime Industry Authority (MARINA) and other agencies in maritime and transportation industries in the celebration of the Day of the Seafarer on 25 June 2020.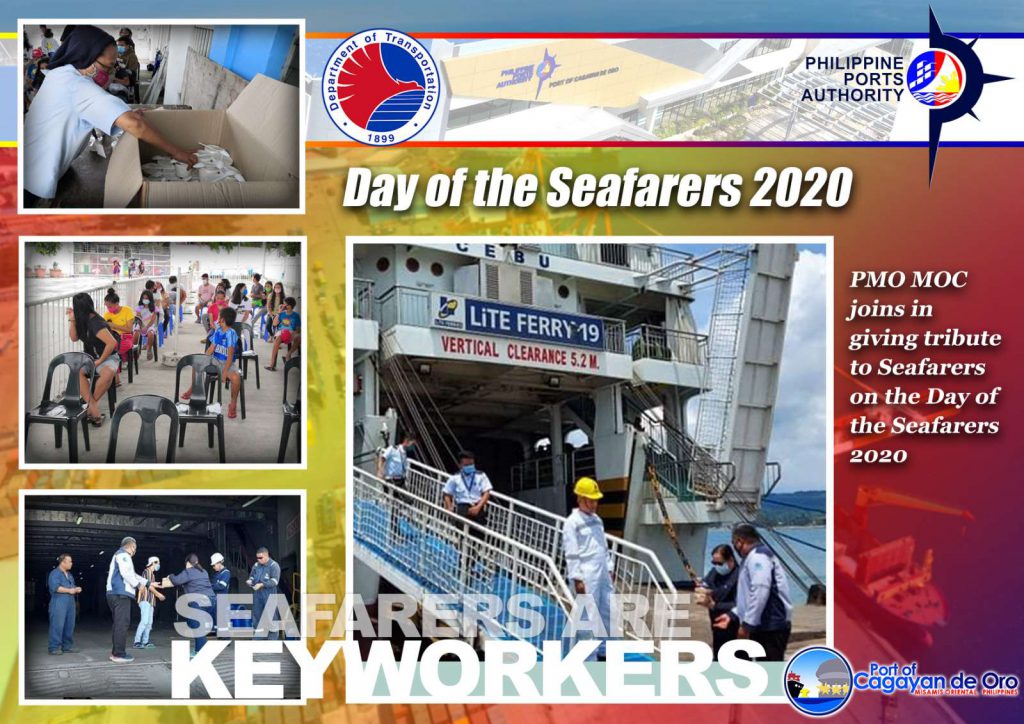 This year's theme, "#SeafarersAreKeyWorkers," puts emphasis on the invaluable contribution of the seafarers for economic growth and development and acknowledges their dedication and sacrifices as frontline personnel as well during this health Coronavirus Disease 2019 (COVID19) pandemic.
The PMO's Port Services Division led the distribution of face masks to seafarers of vessels docking in CDO Port. The PMO also provided food packs to the 50 scholars of the Stella Maris – Apostleship of the Sea (AoS) Center, most of whom are children and family of Filipino seafarers.
Since the activities to celebrate the annual event could not be conducted physically, MARINA had organized various of website seminars (webinars) for partner agencies, including PPA, to participate in. The series of webinars discussed a variety of topics, from MARINA's latest guidelines on the issuance of Seafarer's Identity Document (SID) and Seafarer's Record Book (SRB) and automation system thereof, up to effective tips to be a successful seafarer and insights on how to face adversities on board from Certified Life Coach and Adventure Coach resource speaker.
The PMO personnel including those in the Terminal Management Offices and working from home have joined the said webinars.