As of 13 August 2020, the Port Management Office of Misamis Oriental/Cagayan de Oro (PMO MO/C) has handled a total of 16,791 repatriated Filipinos composed of Returning Overseas Filipinos (ROFs) and Locally Stranded Individuals (LSIs) from 211 trip arrivals since 25 April 2020.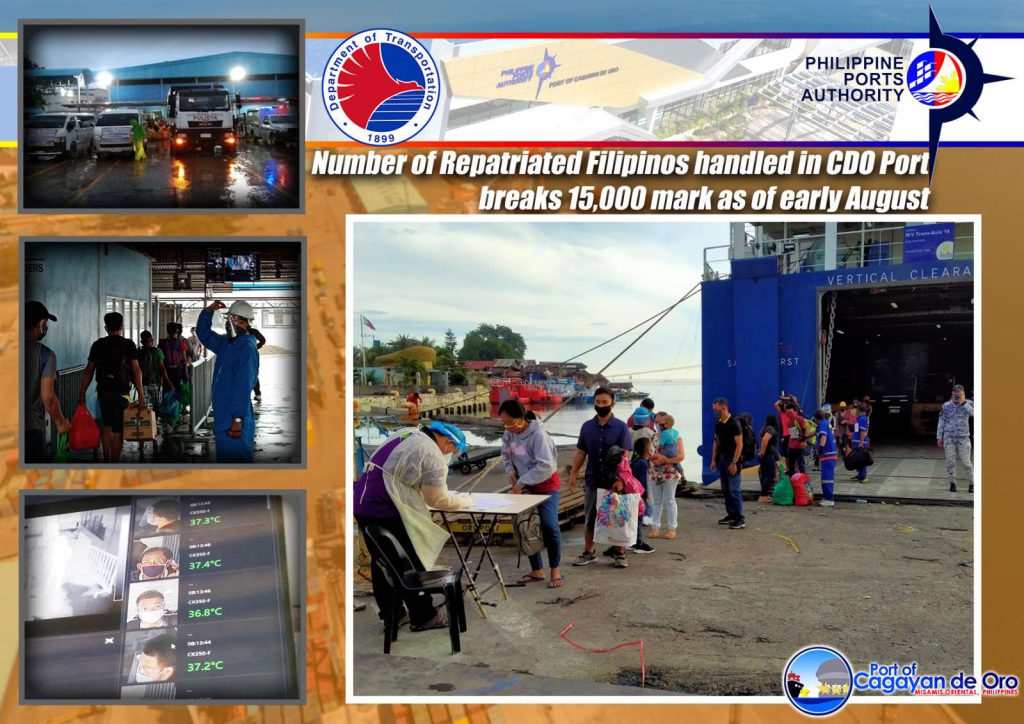 The number of arriving repatriated individuals surged after the grand send-offs under the new Hatid-Tulong Program, the current humanitarian initiative of the Philippine government which aimed to facilitate citizens in Metro Manila to go back to their home provinces in Visayas and Mindanao. During the first grand send-off on 07 July 2020, the PMO MO/C recorded 997 single-day volume of combined ROFs and LSIs, while there were 697 in the second grand send-off on 27 July.
Notwithstanding their compliance to documentary requirements including medical certificates or health clearance before their departure from ports of origin, arriving passengers were subjected to health and safety protocols upon their arrival in CDO Port. Since June 2020, the multiple scanner equipment provided by the City LGU of Cagayan de Oro was already operational at the Port's arrival area.
ROFs and LSIs who cannot be immediately fetched by their respective LGUs, are being transferred to the temporary holding area provided by the University of Science and Technology of Southern Philippines (USTP) within their campus.