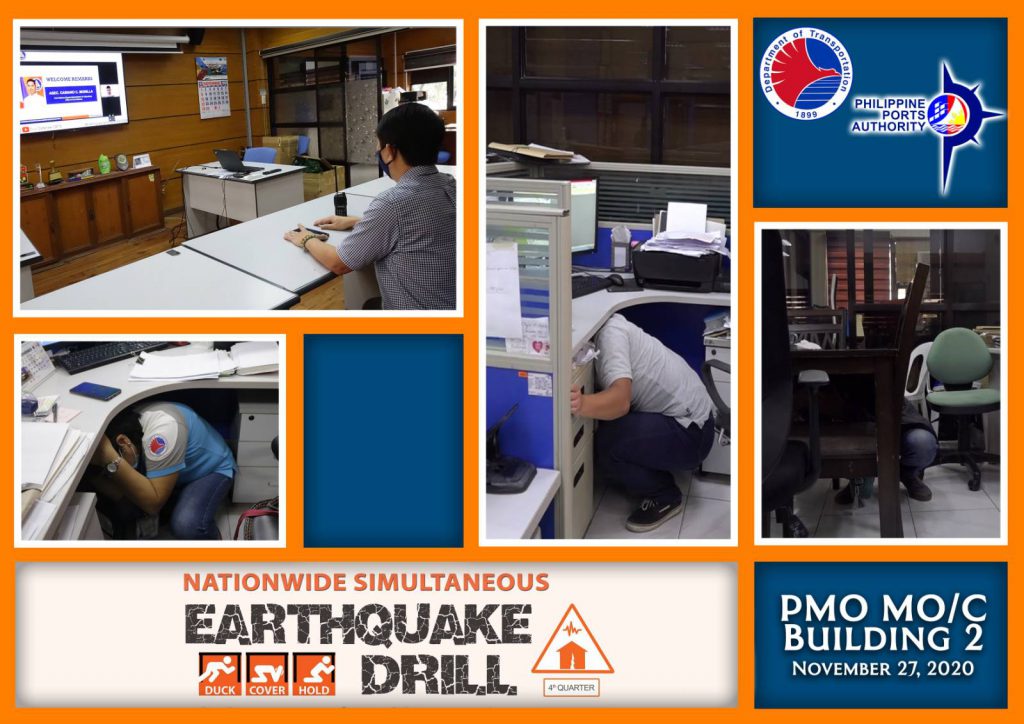 In the continuing promotion of disaster awareness and preparedness among employees and other port stakeholders despite the prevailing health crisis caused by the Coronavirus Disease-2019 (COVID-19) pandemic, the Port Management Office of Misamis Oriental/Cagayan de Oro participated in the Nationwide Simultaneous Earthquake Drill for the 4th Quarter of CY 2020 on 27 November 2020.
More than 100 participants including those from the Terminal Management Offices of Balingoan, Camiguin, and Opol joined the drill and executed the "Duck, Cover, and Hold" while the simulated earthquake was ongoing, indicated by the siren of the fire alarm system that ran for a minute.
Since mass gathering is discouraged as part of the minimum public health protocols, building evacuation was excluded in this drill. The participants were informed to stay in their respective workstations after the simulated earthquake.
The Command Center (ComCen), the central communication hub of the Port of Cagayan de Oro, managed by the Port Police Division, conducted a net call to all stations for emergency reporting and other security protocols as part of the communications drill during emergencies.
"Go" bags and first aid kit were prepared prior to the simulation.
The drill ran for four minutes and forty-five seconds including the net call reporting.
The PMO's participation to the drill serves as a venue to revisit the earthquake response/action plans of the PMO, improve the weak points, and retain and continue the good practices.