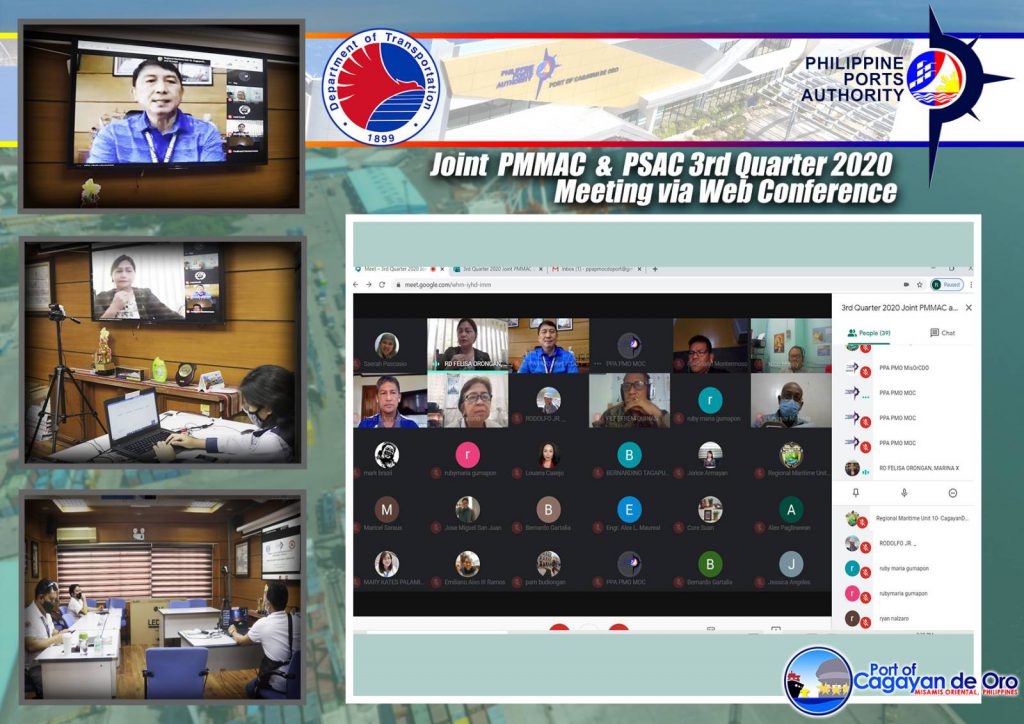 In order to limit person-to-person contact in compliance with the minimum health standards amid the prevailing COVID-19 pandemic and provide more convenience to the port users for improved ease of doing business, the member agencies of the Port and Maritime Management Advisory Council (PMMAC) and Port Security Advisory Council (PSAC) and partner agencies discussed the electronic payment and proposed revised guidelines on the issuance of permits to operate (PTO), along with other agenda on proposed policies and mandate during the joint Council online meeting on 18 September 2020.
The PPA Port Management Office of Misamis Oriental/Cagayan de Oro informed the Council on the latest digitalization undertakings of the Authority particularly the enhancements on the electronic payment facility of PPA for payment of port charges and the revised guidelines for processing of PTO which will be catered through the PPA Electronic Permit Management System (ePMS). The body was also updated on the joint agreement among DTI, BOC, PPA, and ARTA on the mandatory online filing, processing and payment of port charges, cargo handling charges, other cargo handling-related charges, permits, ancillary fees, and customs taxes per Joint Memorandum Circular No. 1,s.2020. This said Joint Memorandum Circular also features the acceptance of digital copies of official receipts and the protocol in case of system failures.
Additionally, the body also tackled the establishment of Shippers' Protection Office (SPO) that will handle all complaints and issues related to the rates, charges, practices and operations of international and domestic shipping lines in the country under the DOTr Department Order (DO) No. 2020-008. The SPO will be chaired by the PPA general manager and the administrator of the Maritime Industry Authority (MARINA) serve as the vice chair.
The participants were also informed about the upcoming public hearing on the proposed cargo handling and storage rates for out-of-gauge cargoes scheduled on 01 October 2020 via online.
The Maritime Industry Authority (MARINA) as the host agency of this year's National Maritime Week Celebration, presented the program of activities for the said week-long event starting 20 September 2020. Interestingly, MARINA is set to launch its new Passenger e-Tracer System, a web-based document management application for easy recording and real-time sharing of passenger manifest among relevant government agencies to facilitate contact tracing and inter-agency coordination. This system was developed by the University of Science and Technology of Southern Philippines (USTP).
The Port Police Division gave updates on security matters for the information of all the attendees.