Member agencies of the Port Security Advisory Council (PSAC) convened during its first virtual meeting on 30 June 2020, spearheaded by the Port Management Office of Misamis Oriental/Cagayan de Oro (PMO MO/C).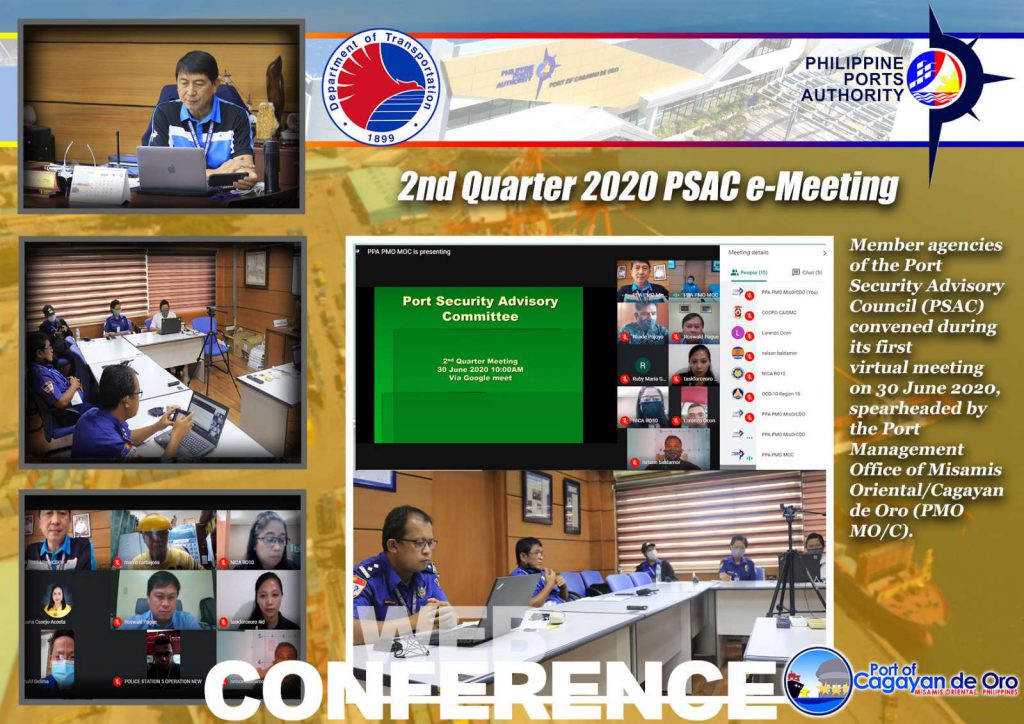 The body discussed the security situation in the City, nearby provinces, and the Region as a whole, as presented by the National Intelligence Coordinating Agency. The PMO MO/C, through its Port Police Division (PPD), also apprised the members on the protocols/ process flow in ports on the management of arriving Returning Overseas Filipinos (ROFs) and Locally Stranded Individuals (LSIs). The meeting presider, Port Manager Butaslac Jr., extended his appreciation to the 4th Infantry Division for the provision of three (3) vehicles in CDO Port to transport the LSIs who are waiting for the transportation provided by the LGUs to ferry them to their home provinces,  from the Port to the temporary holding area in the University of Science and Technology of Southern Philippines (USTP) gym.
The PPD informed about the implementation of the additional entry protocol in CDO Port and Terminal Ports of Camiguin, Balingoan, and Opol contained in the Port Advisory/Bulletin/Announcement (PABA) No. 021-2020. In addition to the Access Control being implemented in ports, the regular employees, outsourced personnel, cargo handling operator personnel, and all other port users/individuals who will be transacting in ports will now have to accomplish an entry form that requires their name, agency, residence address, body temperature upon entering the Port, and travel history for the past week. This said protocol is aimed at enhancing the contact tracing should an individual transacting at the ports is tested positive of COVID-19.
Port Manager Butaslac. Jr. thanked all the participants for their continuous support and cooperation in upholding peace and security in ports and Northern Mindanao amid the current public health crisis brought by COVID-19 pandemic.