The aftermath of the prevailing Coronavirus Disease 2019 (COVID19) pandemic has confronted the maritime sector and partner agencies with various challenges, that prompted for a more coordinated inter-agency operations and mechanism towards the continuing delivery of public services and gear up for the inevitable "new normal" in port and maritime operations. To address issues and craft proactive measures, the member agencies of the Port and Maritime Management Advisory Council (PMMAC) and partner agencies convened during the first online Council meeting on 09 June 2020.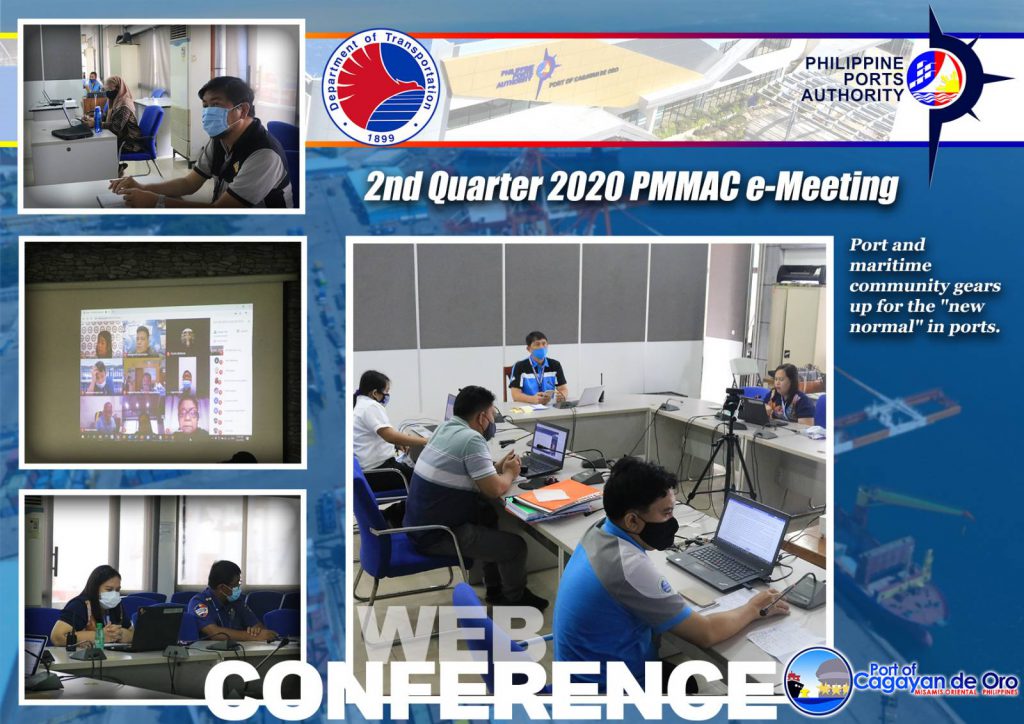 The Council, together with the invited lead agencies of the Logistics and Humanitarian Task Force for COVID19, primarily deliberated on the management of the Returning Overseas Filipino Workers (ROFs) and Locally Stranded Individuals (LSIs) who are arriving in the Port of Cagayan de Oro in increasing volumes. The influx of these inbound passengers in major seaport and airports nationwide was an offshoot of the government's Balik-Probinsya, Bagong Pag-asa Program, which initially targeted the transport of more than 17,500 OFWs to their home provinces in three (3) days and thousands of LSIs in the days and months to come.
The CDO Port, as a major gateway port, has been the receiving Port for the repatriated Filipinos who will be coming home to other regions and provinces in Mindanao, including Cotabato, Davao, Zamboanga, Caraga, among others. Hence, the meeting participants discussed and addressed the concerns on the management of these LSIs such as: the transport of the ROFs and LSIs to their respective regions and provinces (or the delay thereof) which shall be taken care of by the LGUs of their hometowns; early transmission of passenger manifest so the receiving LGUs will be informed ahead of time and could prepare to fetch their constituents upon arrival; the holding area outside the Port while they are waiting for the transport units; among others. The meeting, as spearheaded by PMO MOC and co-chaired by the Maritime Industry Authority (MARINA) and Philippine Coast Guard, concurred to the proposed uniform template of the passenger manifest which is to be sent electronically from the Port of Origin to the Port of Destination for faster transmission of passengers' profile, / information especially about their home addresses.
Amidst the continuous influx of ROFs and LSIs in the CDO Port, the PMO, together with DOH, ensure that the health protocols are implemented both in the departure and arrival areas. The PMO presented to the body the new operation flow in the Passenger Terminal Complex, putting emphasis on the facilities and mechanisms to adhere to the health and safety protocols.
The meeting concluded with the presentation of the draft resolution, adopting measures to be observed and implemented at the Port of Cagayan De Oro for passenger operations under the new normal, which was subjected for further evaluation of the port stakeholders.